Safety and Terrorism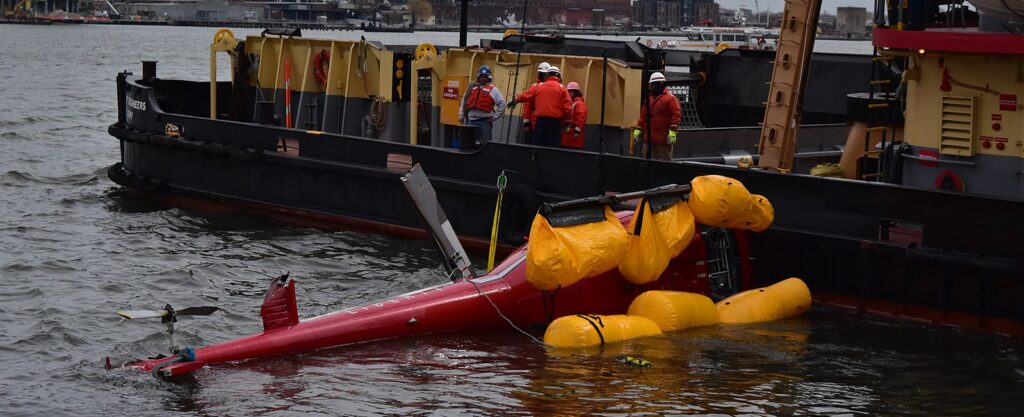 Human Safety
Helicopters are not safe for passengers, crew, nor for people on the ground. This has been proven, time and again, by the helicopter operators themselves. We ask our elected officials to finally put an end to these reckless flights, so that no one else must die. See below for a history of local helicopter crashes resulting in fatalities or injuries from 1970 – present. (List excerpted from the National Transportation Safety Board database of all helicopter crashes).
June 10, 2019: Commuter helicopter crashes into Equitable Building in midtown Manhattan. Pilot perishes in rooftop fire. Building and neighborhood evacuated for safety reasons.
May 15, 2019: A Blade helicopter crashed into Hudson River near the West 30th Street Heliport after missing the landing pad. The only passenger was the pilot who was able to escape. Video and full story.
March 11, 2018: Sightseeing/ Aerial Photography Doors Off FlyNyon Tour operated by Liberty Helicopter crashes into East River; all five passengers drown.
July 1, 2013: Sightseeing chopper plunges into Hudson River twenty second after power cuts out; all passengers rescued by nearby boats.
Oct. 4, 2011: Sightseeing chopper plunges into East River from excess weight; two tourists from New Zealand on birthday celebration drown, trapped in wreckage of sinking helicopter.
April 14, 2011: Court rules that cyclist's lawsuit against heliport for injuries from helicopter landing can proceed.
April 14, 2011: A Manhattan man claims a burst of wind from a helicopter carrying a bunch of wealthy executives from the East Side to the West Side blew him off his bicycle and into the path of another cyclist.
Aug. 8, 2009: Liberty Helicopters sightseeing chopper flying too high collides with a private plane over the Hudson River, killing nine people, including five Italian tourists and three children.
July 7, 2007: Liberty Helicopters sightseeing chopper carrying eight drops 500 feet into the Hudson, but an off-duty EMT aboard helps everyone escape.
June 14, 2005: A Bell 206L LongRanger carrying six foreign tourists dumps into the East River after takeoff from Downtown Manhattan Heliport. One person is seriously injured.
August 29, 2004: Instructional helicopter crashes into water, resulting in 2 fatalities in Northport, NY
November 8, 2002: Gazelle personal helicopter crashes into water, 1 fatality in East Hampton, NY
April 15, 1997: Colgate Palmolive corporate helicopter crashes into East River from 60th Street Heliport, NYC resulting in 1 fatality and 3 injured
New Year's Eve, 1997: Liberty Helicopters sightseeing chopper crashes into side of building near West 30th Street. Eight people on board are injured.
February 10, 1990: An Island Helicopter crashed into the river from the 34th Street Heliport due to pilot error resulting in 1 fatality and 4 survivors.
October 22, 1986: Traffic news helicopter crashed into Hudson River, resulting in 1 fatality and 1 seriously injured.
April 26, 1985 – An air taxi owned by New York Helicopters departing from East 34th Street Heliport with two crew and 6 passengers lost power and rolled over and sank. One person drowned and 4 others were injured.
September 22, 1982: Omniflight Airways Bell charter helicopter kills one passenger with its tail rotor at the Pan Am Metroport at East 60th Street.
December 7, 1980: Piper personal helicopter crash in Jamaica, NY, 4 fatalities
August 9, 1979: Commuter Beech helicopter crash from Flushing, NY, 3 fatalities
June 18, 1979: Piper personal helicopter crash in Flushing, NY, 3 fatalities
May 5, 1994: A helicopter operated by Titan Helicopter Academy flying from Teterboro Airport to the Hudson River struck power lines at mid-day. The crash landed on NJ-495 approximately one mile from the Lincoln Tunnel killing both passengers including a flight instructor. Approximately 100 vehicles received damage, with several of them being destroyed by fire.
October 6, 1979 a commercial air taxi operated by Island Helicopter traveling from East Hampton to NYC crashed in Old Westbury Long Island killing the pilot.
May 22, 1977: Private Cessna helicopter crash in Flushing, NY, 1 fatality, 2 injured
May 16, 1977: NY Airways commuter helicopter malfunction at the former Pan Am Building, NYC heliport, 4 fatalities caused by the rotor blades and 21 injured
April 5, 1977: Mitsubishi helicopter in Bronx, NY, 7 fatalities, 1 injured
September 8, 1970: Jamaica, NY – 11 fatalities Douglas DC-8F helicopter
July 28, 1973: Helicopter crashes into water from 23rd Street Skyport with one fatality.
April 17, 1972: A Sightseeing flight departing from the Downtown Heliport crashed killing the pilot and two passengers.
October 14, 1963 A New York Airways scheduled commuter helicopter crashed in Jamaica, NY killing three passengers and three crew.
Risk of Terrorism
Helicopters are a threat to national security. The New York Post points to some of the reasons.
Helicopters fly low and very close to iconic landmarks like the Statue of Liberty and the World Trade Center.
There is little security at local heliports.
There is no TSA screening and last minute walk-ins are welcome.
There is no barrier between the passengers and pilot. Passengers have free access to the pilots, making it easy to overpower them.
Helicopters fly past hundreds of buildings on both the New York and New Jersey sides of the Hudson River making them easy targets for sharpshooters.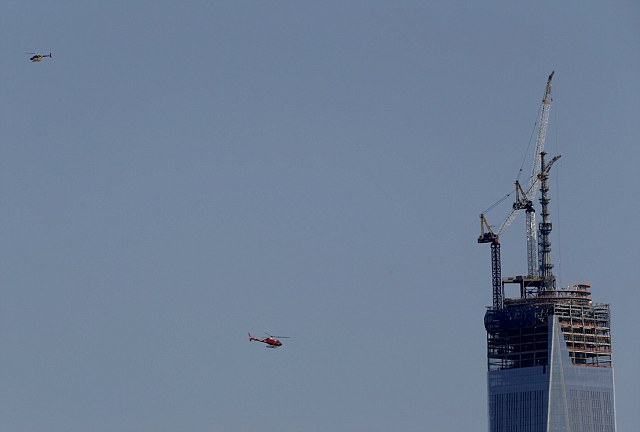 FAA Helicopter Identification
The FAA requires helicopter pilots to detail flight tracking information including tail numbers and transponder feeds:
Please click on the following link to see our latest list of helicopters that frequent the sky over the NY Metropolitan area Read more….
However requests can be made to limit such information Read more… .
Pilots can use the following instructions to hide the helicopter's identity and route info from public view Read more…